Redesign of the online store of gyroscooters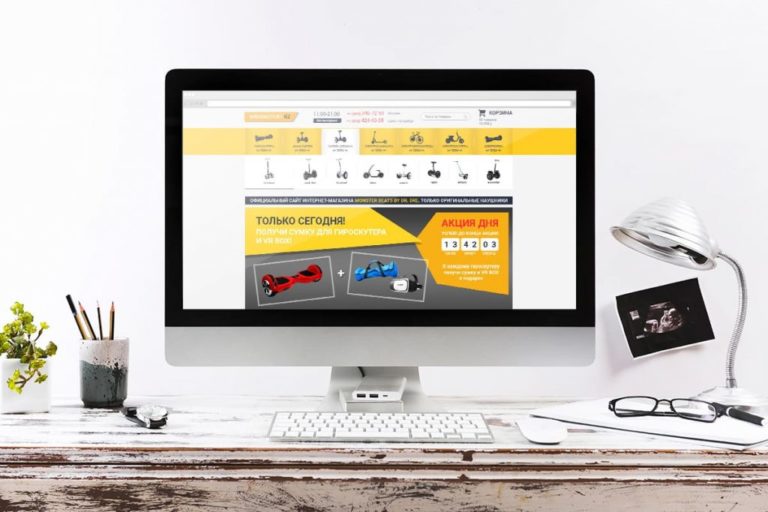 Client: Gyro-Scooter-Shop
A task:
Provide the buyer with information about the product and the company
Develop an individual conversion design
Develop a fast website
Organize a convenient and intuitive site structure
Fill and prepare the site for the launch of advertising

Online store redesign we started with an analysis of competitors in Moscow and the region. We collected about 10 large stores and developed a new concept for the site based on them.
The project was handled by a team of 3 people: 2 marketers, seo specialist. The site was prepared for contextual advertising and SEO promotion.

Based on the analysis of competitors and the current site, we have formed a document of 13 pages with a list of improvements.
Adjustments were also formed on the basis of usability and statistics from metrics and analytics. After compiling the list of adjustments, we made a statement of work for the designer to render the site pages.

Designed an online store, based primarily on the technical specifications from marketers and seo specialists. The designer worked on the color scheme, fonts, photos, icons.
In addition to the version for personal computers, we also made a mobile version of the main pages. Because based on the analysis of 60%, visitors came to the site from mobile devices.

Preparing html layouts
Responsive layout for desktop and mobile
Connecting html layouts to CMS Opencart
Checking and fixing errors
Downloading new models and changing prices
After the completion of the technical part, the site was filled with new models of popular hoverboards and the prices for some models were reduced on 15%.
The site has become more convenient and the trust of users and search engines in the company has increased.
Leave a request and we will send you a brief to fill out.