Creating and configuring contextual advertising in Google Adwords and Yandex Direct
We will set up ads for you according to the questions of your customers, which will lead visitors to your site. We will select suitable queries, compose conversion texts, and in the future we will develop the most effective bid management strategy.
A marketer will audit your advertising campaigns for FREE and find weaknesses.
What

contextual advertising?

How does it work

contextual advertising?
How to make context

advertising effective?

How to choose the best

marketer?

How many applications will 

per day and at what budget?
You are already disappointed in the services of the previous contractor or in paid advertising in Google and Yandex in general, because you have been investing money for 3, 5, 12 months and DID NOT GET THE REQUIRED RETURN?
What result will you get?
1. Fastest way to attract potential customers
These are ads that are displayed based on search queries, interests, and user behavior. You pay directly for clicks. 
2. Contextual advertising works according to the auction method
Contextual advertising is chosen by companies that want to quickly increase the number of orders for their goods or services. Here the auction rule applies - those who offered the best bid receive impressions. 
3. Yandex Direct and Google Adwords  based on one simple principle:
If your advertising campaigns are effective (high CTR), then you pay less money per click. An effective ad will help you get more traffic while reducing your visitor acquisition budget.
4. How to choose the best marketer?
Pay attention to the following signs of a good optimizer:
asks for something to agree or check reports (semantic core, ad example, negative keywords);
ready to answer any questions regarding the promotion of the site and its effectiveness, confirming it with facts and figures;
5. You will receive a forecast applications and budget for the month
At the start stage, you can make a forecast of the number of applications per month. It can be used to evaluate the effectiveness of the strategy, the promotion budget and understand the benchmark for achieving results.
It's completely free and does not oblige you to anything.
In the shortest possible time you will receive:
Free analysis of your website
We will point out what errors are present on the site that prevent you from getting customers from search engines, as well as give recommendations on how to increase traffic to your site.
Recommended words for promotion
We will find phrases on the subject of your site in order to attract the maximum number of potential customers.
Individual (not template) offer
We will form a commercial offer, depending on the specifics of your business.
How is contextual advertising set up?
We compare your site with the leaders in the search for your topic and develop a comprehensive website promotion strategy
We study the target audience
Only interested users should see your ads

We select low-competitive keywords
Helps to significantly reduce the cost of one targeted action

Analyzing advertising campaigns
Your direct competitors

We carry out remarketing
We know an effective way to return a client to the site. If the visitor has not completed the target action, then with the help of banner advertising he is reminded of your site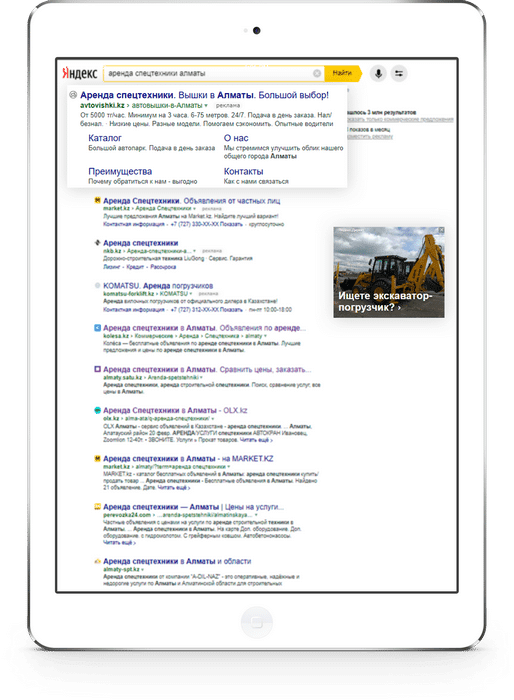 Set up main and intermediate goals
Correctly specified advertising objectives help to evaluate how effective the campaign is.

Choosing the right landing pages
If the page where the visitor gets after clicking on the ad does not match the expectation and context of the ad, then he will leave it

Preparing an attractive snippet or banner ad
The visitor must want to click on your ad or banner, and for this you need to compose them correctly
Order an advertising audit
by 27 parameters
Audit cost 34 550 tenge 25 500 tenge
This is a separate service and can be ordered separately from contextual advertising settings. This audit will help you determine the quality of your ad settings and assess the qualifications of your specialists.
Find out how much money you waste every month
Understand how you can increase targeted traffic to your website
Find out how many other customers are looking for your product but don't see your ad
Get a step-by-step action plan that will increase the effectiveness of your advertising by at least 2 times
Results of setting and maintenance:
Case #1
Case #2
Case #3
Case №4
Case #5
Case #1
Setting up and maintaining an advertising campaign in Yandex on a turnkey basis
Subject: Construction of houses and baths from logs
In February, a customer approached us with the task of setting up contextual advertising in Yandex and getting at least 40 leads in March.
Under Direct, 937 keywords were collected and put into operation. Before the launch of advertising, CallTouch call tracking was connected to record calls.
Based on the results of two weeks of maintenance, it was possible to clear traffic from non-targeted visitors, and also turned off about 20 ineffective keywords, for which there was a rather high expense and, at the same time, there were no requests.
The result of the advertising campaign in the screenshot:
Average cost per click - 14.8 rubles
The number of leads per day - from 2 to 9
The average lead price in this case is 785.9 rubles.
The total budget is 78,592 rubles.
For a month and a half of work, we managed to get these pretty good numbers.
In the future, we plan to launch Google Adwords and, of course, increase the number of leads by redistributing the budget to more effective queries.
Case #2
Case #3
Case №4
Case #5
What results will you get?

The first results are already
after 2-3 days after project launch

Over 200 projects that really work

We have a big work experience in highly competitive topics

Ads will be shown to those users who looking for your product (service)

We employ only experienced certified specialists

We will find and eliminate the causes of inefficiency your current advertising campaigns
Get a quotation and audit
Internet Marketing Tools:

Integrated Digital Marketing
Integrated Marketing from ArteFix. Marketing that makes money

From 500 000 ₸

contextual advertising
Yandex Direct. Google AdWords. We increase the conversion.

From 72 499 ₸

Marketing strategy
We analyze the niche and select the best tools for promotion.

От 545 000 ₸

SEO promotion
The right semantic core is the key to success!

От 152 800 ₸

Website development
ArteFix: This is where selling websites are born.

От 75 999 ₸

SMM Marketing
Development of an SMM promotion strategy to increase the reach of the target audience.

От 128 999 ₸